New Charcoal Making Machine | Biomass Carbonization Furnace
| | |
| --- | --- |
| Model | SL-05 |
| Capacity | 0.3-0.5t/h |
| Working Method | Fully continuous |
| Reactor Size | 820mm |
| Energy Consumption | 45kw/h |
| Dimensions | 28m*10m*6m |
| Weight | 28t |
| Operating Pressure | Slight negative pressure |
| Service Life | 5-8 years |
New charcoal making machine is a continuous carbonization furnace specially developed for carbonizing various biomass materials. The new carbonization furnace is not only beautiful in appearance and atmosphere. And its console has added an intelligent numerical control panel. In addition, the carbonization rate of raw materials has also increased from the original 75% to 95%. In short, the new charcoal machine is low-carbon environmental protection equipment with high-cost performance and a high return rate. Contact us now for the latest consultation on it. For example, price, shipping. We look forward to a pleasant cooperation with you.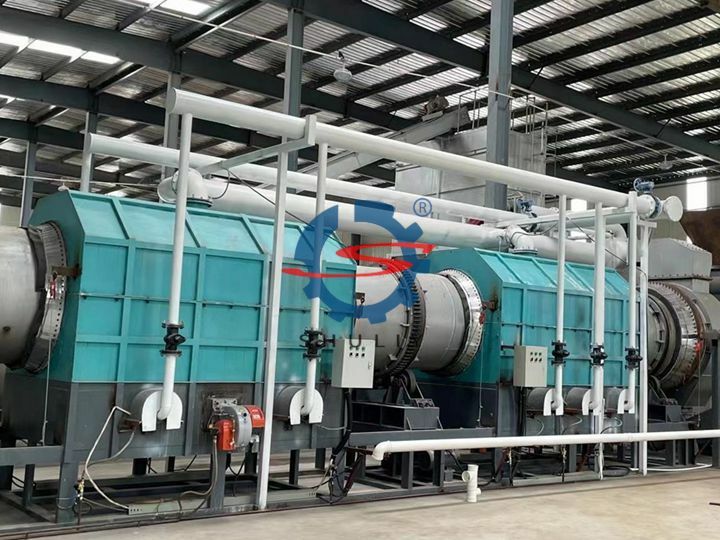 Raw materials for new charcoal making machines
It can process biomass feedstocks with a size of less than 10cm. Its raw materials are agricultural and forestry waste (rice husk, wood pellet, straw pellet, bark), fruit shell (coconut shell, olive fruit, palm shell, chestnut shell, longan shell), and others (cow dung, cow bone, sludge), etc. As the raw material moisture is smaller, the carbonization rate is higher. Therefore, we will recommend customers choose a tumble dryer to dry raw materials. The dryer can keep the raw material moisture at about 8%.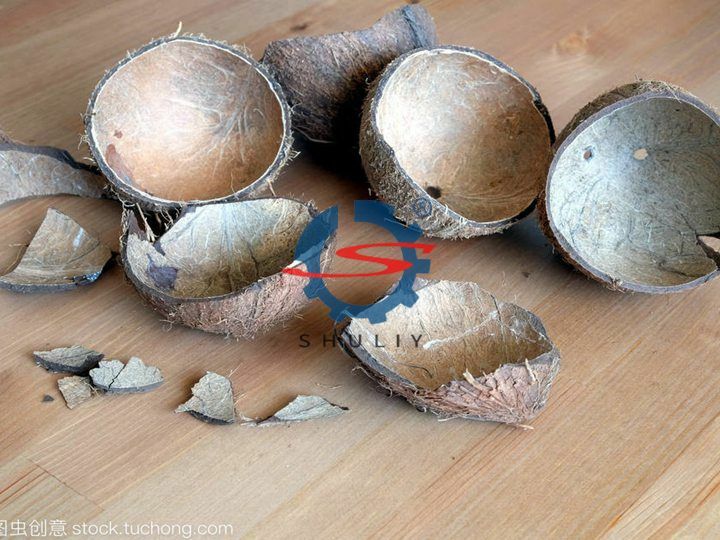 Structure of the new charcoal machine
Double main furnace
The carbonization main body of the carbonization furnace adopts a double-cylinder structure. This design makes the material tumble from the inner furnace to the outer furnace in a circle. That is to say, the inlet and outlet of the coconut shell carbonization furnace are on the same side.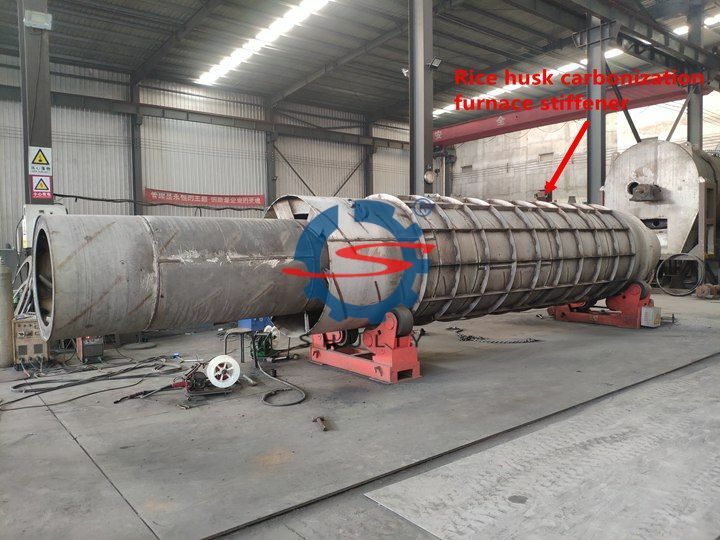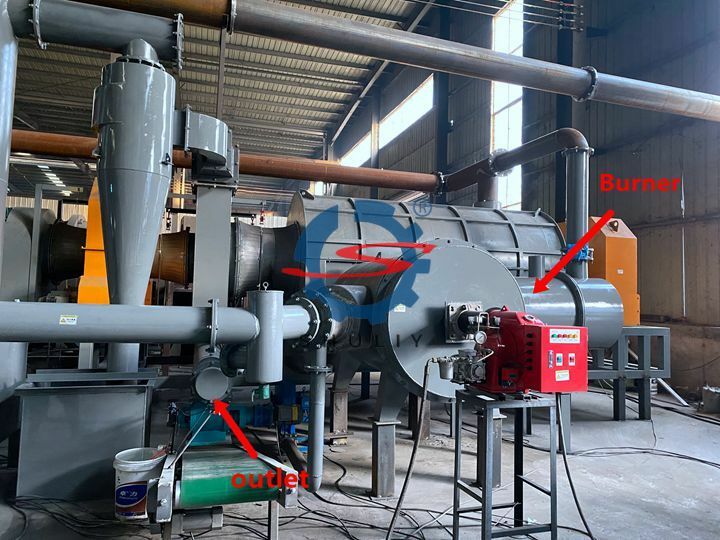 Combustion chamber
The combustion chamber is insulated with thermal insulation rock wool. It is also a closed furnace body. Therefore, the airtightness of the whole machine is good, and the carbonization efficiency is high. The heating material of rice husk carbonization furnace can be charcoal, wood, diesel, natural gas, liquefied petroleum gas, biomass, etc.
PLC control panel
The starting and control system was changed from the previous power distribution cabinet to the plc touch screen mode. Customers can set the speed, temperature, time, etc. through the computer.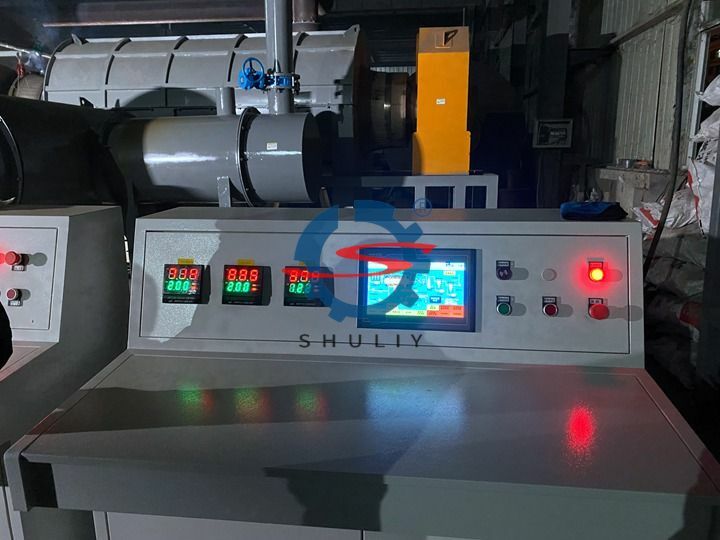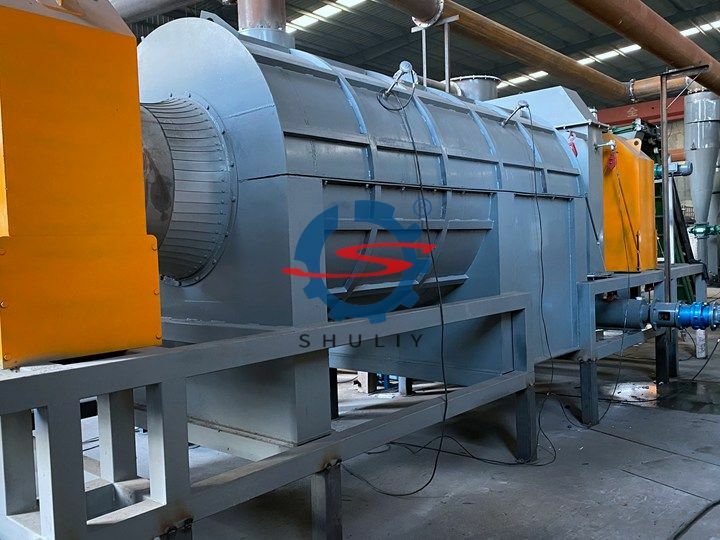 Furnace reinforcement
The surface of its furnace body is reinforced with horizontal and vertical carbon steel metal. The furnace body is wrapped in a stainless steel casing. Therefore, the use of the new coconut shell charcoal making machine is not easy to deform and has a longer life.
Video of biomass carbonization furnace
Below is a video of processing various feedstocks with a biomass carbonization furnace. You can see its efficient and high-quality charring from the video.
Parameters of the new charcoal making machine
The time and temperature of carbonization of different raw materials are different. Therefore, the following data are for reference only.
Model
SL-05
SL-10
SL-30
SL-50
Capacity
0.3-0.5t/h
0.8-1t/h
2.5-3t/h
4.5-5t/h
Working Method
Fully continuous
Reactor Size
820mm
1000mm
1300mm
1700mm
Energy Consumption
45kw/h
65kw/h
90kw/h
125kw/h
Dimensions
28m*10m*6m
33m*13m*7m
40m*15m*8m
50m*16m*10m
Weight
28t
35t
45t
54t
Operating Pressure
Slight negative pressure
Service Life
5-8 years
Finished products of bio charcoal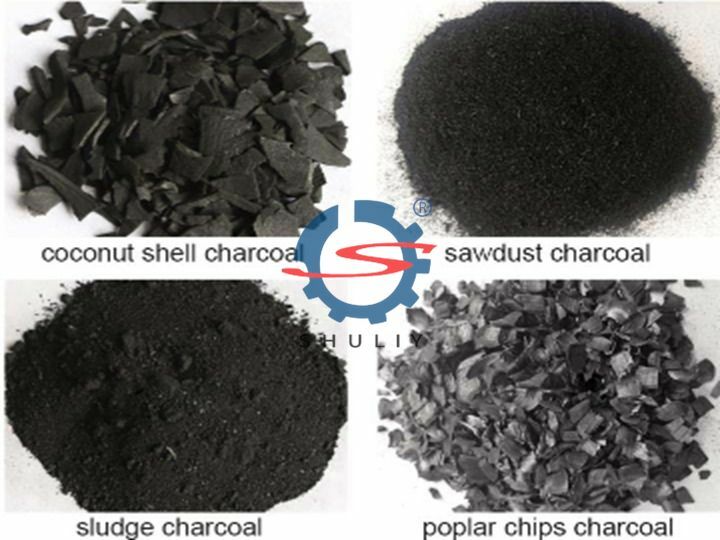 First, the rice husk charcoal, coconut husk charcoal, and nutshell charcoal produced by the rice husk charcoal making machine can be sold directly. Second, they can be used to make charcoal briquette after they are crushed into charcoal powder using a hammer mill. Third, these biomass chars can be used for cultivation to improve soil quality.