Charcoal Briquette Dryer | Heat Pump Drying Machine
| | |
| --- | --- |
| Model | SL-BD 08 |
| Drying room size | 8m*2.3m*2.5m |
| Circulating fan | 6pcs |
| Dehumidification fan | 2pcs |
| Trolley | 8pcs |
| Tray | 80pcs |
Charcoal briquette dryer machine is one of the necessary equipment for the coal production line. It mainly adopts the principle of hot air circulation. Therefore, it can run stably. Moreover, it can dry materials at any time regardless of the weather. So, charcoal briquetting dryers are popular equipment in many charcoal factories. The Shuliy factory sells two types of coal dryers: a trolley drying room and a multi-layer mesh belt dryer. They are all highly economical products. If you would like to invest in a dryer, please contact us today.
Raw materials for charcoal briquette dryer
The application field of charcoal briquette dryer machines is very wide. It can be used for drying materials in food processing, Chinese herbal medicine, and the coal industry. Due to its drying effect and the concept of energy-saving, the response is very good. Therefore, many charcoal factories use charcoal briquetting dryers to dry coal products. Such as charcoal powder briquette, honeycomb coal, bbq charcoal, square shisha charcoal, round hookah charcoal, etc.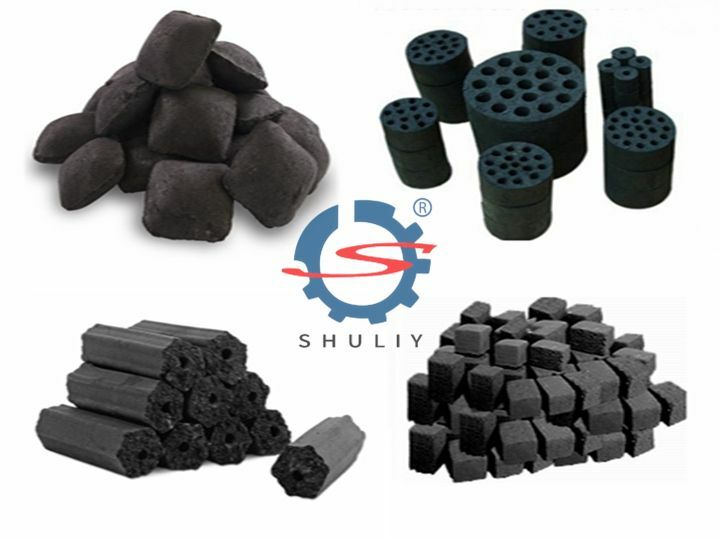 What are the types of barbecue coal dryers?
Our two types of dryers: box dryers and mesh belt dryers. If you have any questions, please leave a message.
Type 1: Charcoal briquette drying room
The charcoal briquetting dryer adopts the working principle of a hot air circulation system and dehumidification system. The temperature in the drying room is detected by an intelligent temperature control induction device. Although different materials have different drying temperatures. However, customers can set the indoor temperature and drying time through the power distribution cabinet of the coal briquette dryer to achieve the best drying state. Therefore, the oven dryer is a very smart and trouble-free device.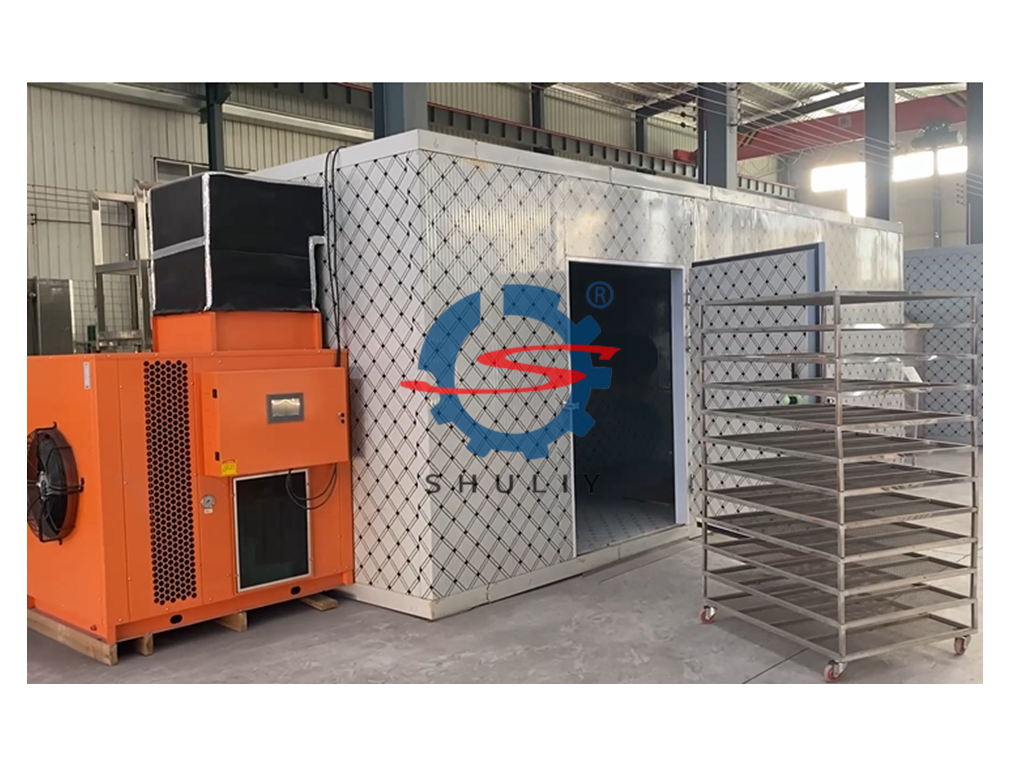 Structure of charcoal briquette dryer machine
Its structure mainly includes heating source, induced draft fan, dehumidifier, hot air duct, control cabinet, trolley, tray, etc. It looks like a room. The customer puts the finished product on the cart and pushes it into the drying room. Moreover, its size can be customized. Generally speaking, its size is related to the number of carts. Each cart has 10 layers.
Air energy heat pump
Its appearance and working principle are similar to that of an air conditioner on-hook. So it is very energy-saving and environmentally friendly.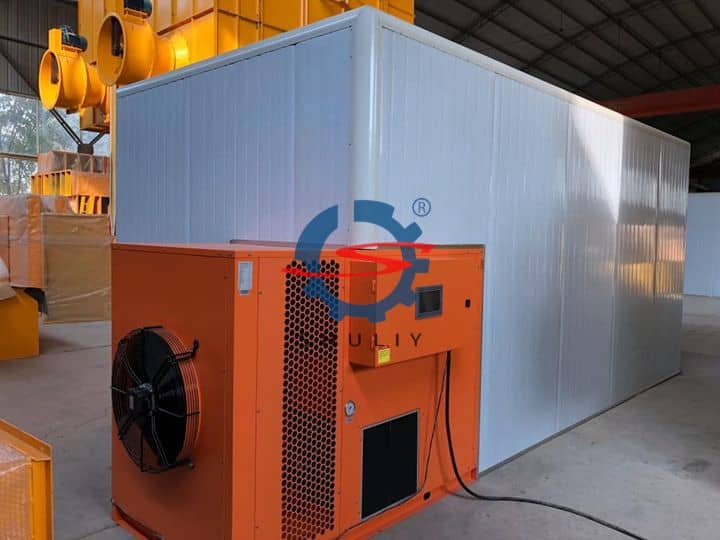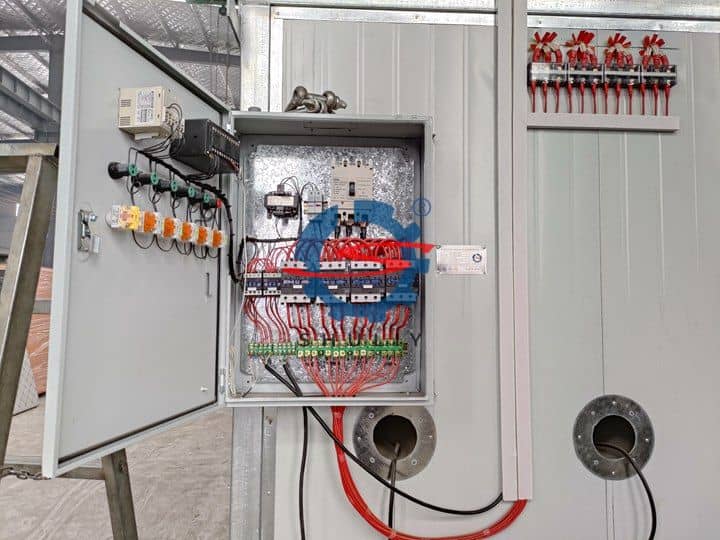 Control cabinet box
Customer can set temperature and time. Automation control: the use of integrated control system, man-machine interface, automatic control without personnel on duty.
Induction fan
It can continuously pump hot air into the drying chamber. Moreover, it also plays the role of gas circulation.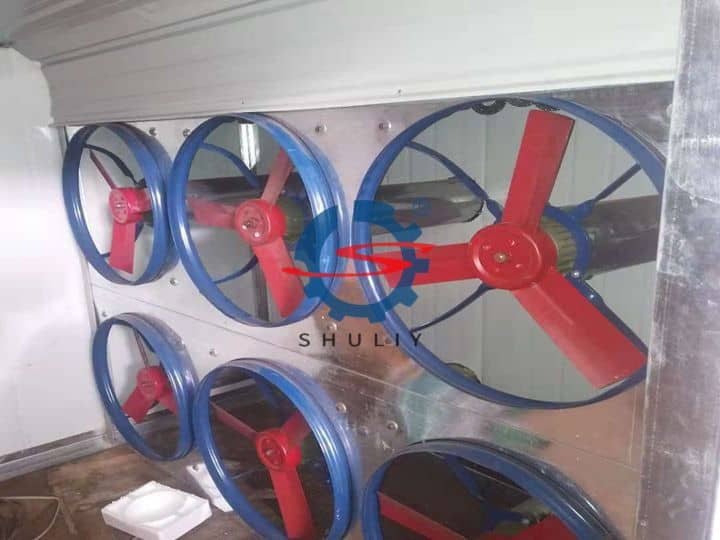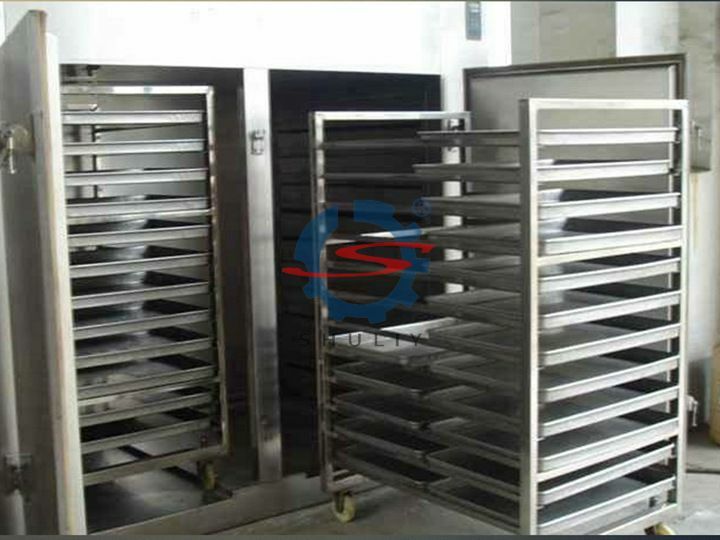 Parameters of charcoal briquette drying machine
| | | |
| --- | --- | --- |
| Model | SL-BD 08 | SL-BD 010 |
| Drying room size | 8m*2.3m*2.5m | 1m*2.3m*2.5m |
| Circulating fan | 6pcs | 6pcs |
| Dehumidification fan | 2pcs | 2pcs |
| Trolley | 8pcs | 10pcs |
| Tray | 80pcs | 100pcs |
Video of box dryer factory real shot
Type 2: Multi-layer mesh belt dryer
The operator needs to put the raw materials (such as briquette, barbecue charcoal, herbs, etc.) into the feeding port. The moving mesh belt then drives the coal to spread it out and enter the drying chamber for drying. The coal moves through the mesh belt dryer, and the hot air uniformly heats and dries the raw material. Moreover, customers can adjust the moisture content of the final raw material by adjusting the moving speed of the mesh belt dryer.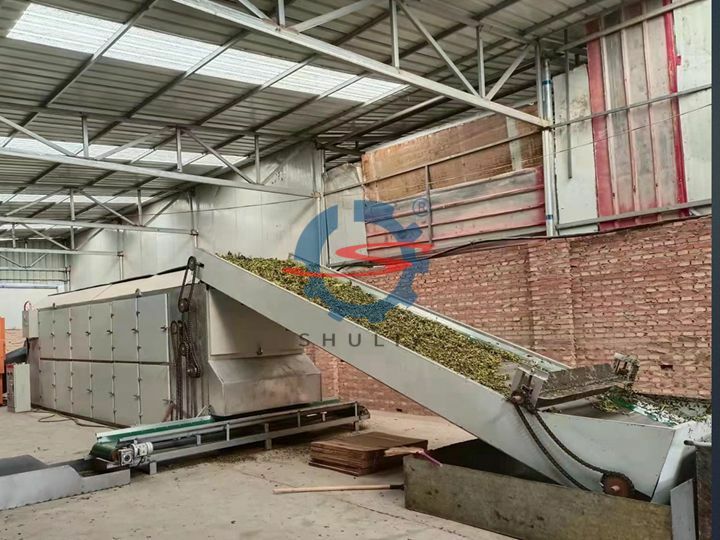 Structure of mesh belt drying machine
Its structure includes feed port, stainless steel conveyor belt, spreader, drying room, heat source, discharge port, induced draft fan, etc.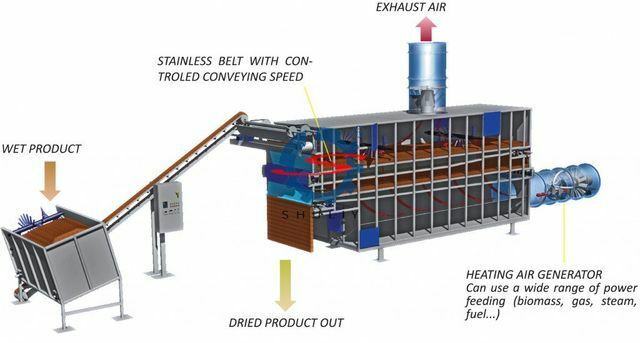 Stainless steel mesh belt
Its material is not easy to be damaged and has a long service life. And each conveyor mesh belt layer has an adjustable-speed motor. In this way, conveyor mesh belt conveyor can be moved evenly.
Inlet
Not only can it be fed continuously. And the continuous mesh belt dryer can automatically spread the material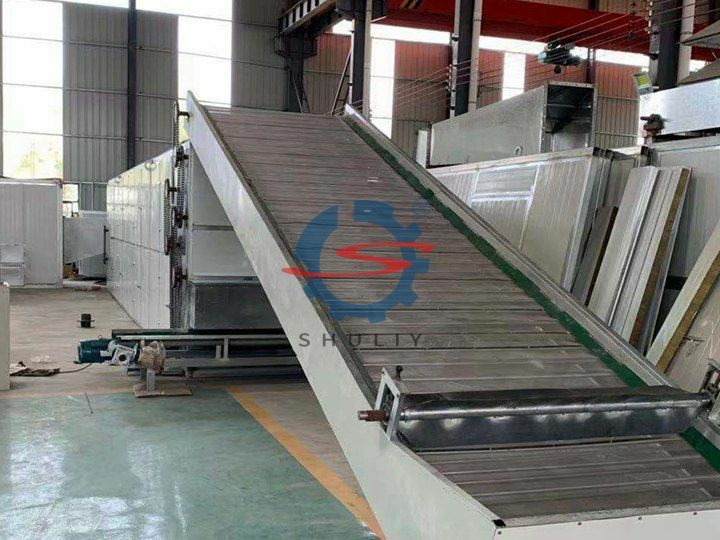 Parameters of continuous mesh belt dryer
Model
LTWD-6
LTWD-8
LTWD-10
LTWD-12
LTWD-16
LTWD-20
LTWD-24
LTWD-30
Width of Belt
600mm
800mm
1000mm
1200mm
1600mm
2000mm
2400mm
3000mm
Length of Drying Section
6-12
6-12
6-16
8-16
8-22
10-26
12-30
12-40
Length of Feeding Section
1
1
1
1
1
1.5
1.5
2
Length of Transmitting Section
1
1
1
1
1
1.5
1.5
2
Drying Area
3.6-36 m2
4.8-48 m2
6-80 m2
7.2-96 m2
12.8-105.6 m2
20-260 m2
28.8-360 m2
Sale of coal drying machine
Charcoal briquette dryers often appear in hookah charcoal production lines, shaped charcoal production lines and coal production lines. Moreover, the dried coal briquette can be directly packaged using a charcoal briquette packaging machine. We sell small charcoal briket drying rooms and mesh belt dryers. Their specifications are flexible and customizable. Therefore, you can tell us your specific requirements and we will provide you with the specific parameters of the machine.